IT'S SIMPLE...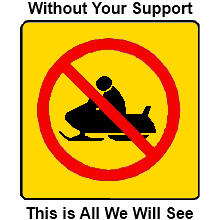 Tulameen BC
Welcome to Tulameen BC
Click Here is visit!

OUR CLUB FEATURED!!!
SEASON ENDS
~THANK YOU FOR A GREAT SEASON

~
Sadly the snow has melted and the snowmobiles are put away for the season. We hope everyone enjoyed safe and fun sledding season.
Our dedicated volunteers were out on the groomers weekly once the snow arrived putting in many hours on both Lodestone and Rabbit Mountain.
Our  event fundraising and sponsorship dollars went to the purchase of a new warming trailer on Lodestone Mountain, fuel for grooming and much needed equipment/repairs for both the small and large groomer.
A huge thank you our volunteers who give countless hours of their time so our snowmobiling family can enjoy the snow and fun@
NEWS!!!
Membership Information
Renew today
Renewing or signing up with the Timberline Cruisers Snowmobile Club helps support our local activities and snowmobiling provincially.  Passed at the October 20, 2018 AGM was an increase of membership rates for the 2019-2020 season. This rate increase will support the operation of 2 groomers for maintenance, increases in fuel costs and general operation. Please note that if you had requested for automatic renewal - the BCSF informed us that this did not work - please take the time to renew your membership.
The Cruisers have accomplished much last season and your membership ensures we can continue to move forward. 
New groomer for Lodestone
New warming trailer for Lodestone
New tiller for the Rabbit Mtn Groomer
Regular Trail maintenance
Firewood for both warming trailers
Wish to learn more about BCSF benefits  www.bcsf.org/cpages/benefits2
Wish to sign up secondary or youth here is a link to help you do just that:
www.bcsf.org/articles/purchasing-secondary-youth-memberships?fbclid=IwAR29IbCVroRKO3vrxSIAS9mcGhrrlPycfxFFror_zknwCRJrAkeSYzXV1Oc
Thank you for supporting local snowmobiling!
Be safe and have fun!